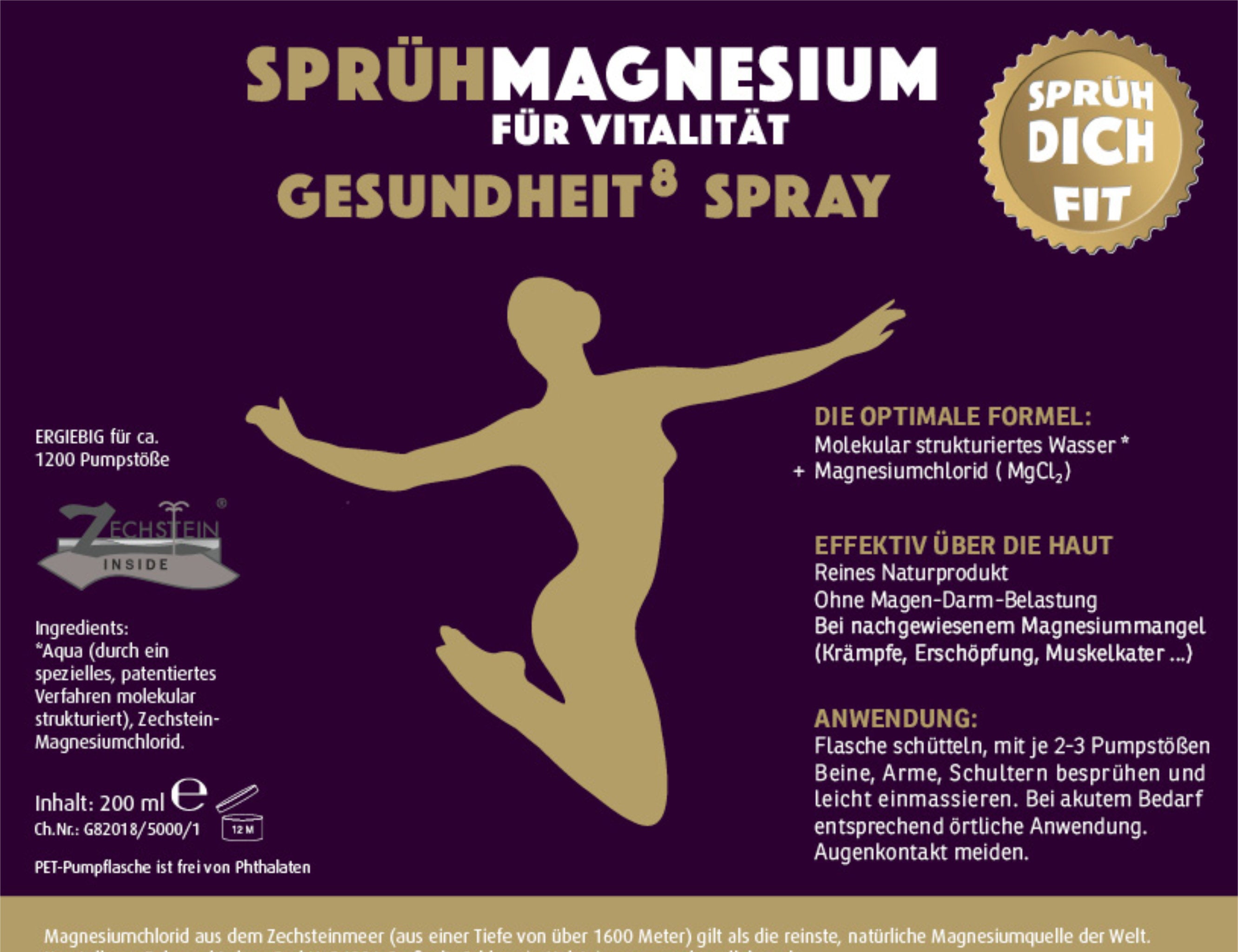 XX Spray magnesium (200 ml) Price € 15,95 (1000 ml 79,50)
The size you are looking for is not offered, the desired part is sold out? Call us: 0611 37 73 00
Get in touch with us at any time.
Spray magnesium (200 ml) Price € 15,95 (1000 ml 79,50)

Application transcutaneous (through the skin)
Spray several pumps on stressed muscle areas and massage gently or let dry away. (Calves and thighs, neck, shoulders, chest, arms, jaw muscle areas, forehead, head ....)

The content of the bottle is enough for about 1200 pump shots.
MAGNESIUM What does science say and what does it know today?
It is an elementary and vital mineral for us.
Magnesium is a key element that is involved in over 300 important processes in the body.
It is consumed and must be regularly supplied to the body.
Often the intake through food and water is not sufficient.
This is especially true for people who are active in sports. Magnesium deficiency has a negative effect on our well-being.
It is particularly important for the relaxation of muscles, nerves and blood vessels.
It is necessary for protein, carbohydrate and fat metabolism, important for the function of liver, thyroid and parathyroid glands.
It is vital and elementary for our digestive system, respiratory and excretory organs, lymphatic and immune system, among others.
It is necessary for muscles and bones, protein, carbohydrate and fat metabolism, reproductive organs, weight, blood sugar and cholesterol control.
It is important for the optimal functioning of the sensory organs and oral health.
Why spray?
Find out for yourself if and how it works through your skin. Especially for cramp and tension pain, headache.
Before sports after sports, for tense work in crafts and office,

About the following statement science is currently arguing fiercely. Spray versus effervescent tablet etc. ...
When magnesium is absorbed through the skin,
no metabolism via the stomach and intestines must take place.
Why Sprühmagnesium Sprüh Fit?
It is unique in this form.
By a patent-protected procedure, the liquids (water and magnesium) are molecularly structured.

General information to the spray magnesium.
It is fast absorbing and a convenient spray application.
Transparent and odorless.
It is a natural means to counteract magnesium deficiency effects.
Best for skin care and wellness purposes for daily use.
100% natural ingredients. (Vegan, without preservatives, fragrances or additives).
Original Zechstein magnesium chloride with original Zechstein seal in a molecularly structured brine without thermal or chemical treatment affecting quality.
Continuous analysis and safety assessment by the Magnesium Health Institute monitor the quality and purity of Zechstein Magnesium Chloride.
The phthalate-free PET pump bottle is unbreakable.
XX Spray magnesium (200 ml) Price € 15,95 (1000 ml 79,50)